News and Events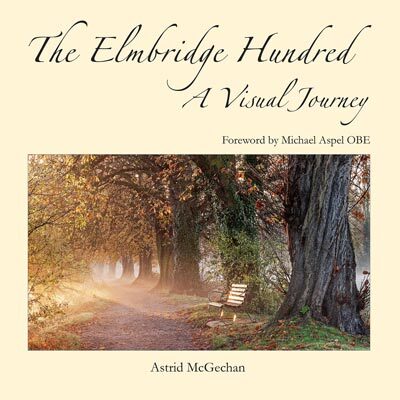 Royston Pike lecture:
The Elmbridge Hundred - A Visual Journey
19 November 2014
Landscape photographer Astrid McGechan will speak about her new photographic book 'The Elmbridge Hundred - A Visual Journey', which portrays the beauty and variety of life and land in Elmbridge. Join Astrid on this visual journey through the borough and discover the Elmbridge countryside.
Wednesday 19 November at 7.30pm.
Tea, coffee and soft drinks will be available from 7pm.
Tickets are £3.00 per person.
Robert Phillips Gallery, Riverhouse Barn Arts Centre
Sullivans Reach, Manor Road, Walton-on-Thames KT12 2PF
More information about the Royson Pike lectures is available on the Elmbridge Borough Council website.
The exhibition will run from 12 - 30 November 2014
The gallery is open Mon – Sun, 10am – 4pm
---
Royston Pike lecture: The Passionate People of Elmbridge, Past and Present
16 November 2012
In her lecture entitled "The Passionate People of Elmbridge, Past and Present" Joanna Tapp wanders through our microcosmic borough, where kings, strippers, film-makers and activists have all shared the same space. Her talk reveals volumes about our contemporary condition, exposing hidden preconceptions and passions.
---
Royston Pike lecture: Knights of the Sky
21 June 2012
Allan Winn, Director of Brooklands Museum will give a talk on three "Knights of the Sky", and their influence on worldwide aviation:
Sir George Edwards
Sir Thomas Sopwith
Sir Barnes Wallis
Tickets are priced at £2.50, and all proceeds from this talk will go towards The Elmbridge Hundred project. Brooklands Museum Members Bar will be open from 6.45pm onwards, with the talk starting at 7.30pm in the Chequered Flag Room.
For futher information about this event email leisure@elmbridge.gov.uk or telephone 01372 474638.
---
Teeing Off Through Time!
23 July 2011
Come along to a family fun golf event, inspired by research from The Elmbridge Hundred.
In 1758 a golf match took place in Molesey on Hurst Park, which sources suggest was the first recorded game of golf in England. It was organised by the famous actor, David Garrick.
This historic event will be celebrated as part of the Cultural Olympiad's Open Weekend on 23 July 2011. The Open Weekend marks the start of the one-year countdown to the London 2012 Olympic and Paralympic Games.


Visit Hurst Park from 12.00 noon to 4.00pm to enjoy:
A display and comedy dramatisation on golf history
Tri golf and mini golfers led by Surrey Golf Partnership
Advice and top tips from Surrey Golf Partnership
Learn to swing like a pro
Family
Fun activities
And much more
For further information about this event email leisure@elmbridge.gov.uk or call 01372 474638.
---
The Emotions in History, Memory and Storytelling
29 June 2011
Alistair Grant and Joanna Tapp spoke about The Elmbridge Hundred at this recent post-graduate conference. 'The Emotions in History, Memory and Storytelling' was organised by The Centre for Research in Memory, Narrative and Histories at the University of Brighton and The Centre for Life History and Life Writing Research at the University of Sussex.
Study of the emotions has been a recurrent theme across social and cultural history, within cultural and literary studies, in memory studies and throughout a wide range of disciplines in the arts and humanities in recent years. This emotional turn has demanded the development of new methodologies and of nuanced approaches to source material and to articulation of emotion.
Alistair and Joanna lent their voices to this debate in their paper, 'The Passionate People of Elmbridge, Past and Present'. This jointly explored the emotive issues raised in researching, documenting, and celebrating local life histories.
---
Alistair Grant to give public lecture on The Elmbridge Hundred
9 March 2011
Alistair will give the final talk in the current Royston Pike series on 'The Story of The Elmbridge Hundred' on 9 March 2011.
Discussing both the process of researching and selecting the Hundred, and the significance of these individuals, the lecture is set to be riveting ride through the area's human history. Find out who are Elmbridge's heroes, villains, mistresses and inventors, and discover the role this Borough has played in national narratives of religion, slavery, feminism and more...
The Royston Pike lecture will be held at the Riverhouse Barn in Walton at 8pm; Admission £1.90.
---
Fashion exhibition features Elmbridge Hundred figures
Elmbridge Museum in Weybridge presents a new exhibition, entitled 'Accessorise: A Story of Superficial Splendour'.
An opportunity to rummage in the Museum's costume closet, the show displays shoes, fans, hats, jewellery, purses and parasols – so you can indulge in a little window shopping! Read history through its handbags and discover how ornamental accessories tell significant stories about society.
Fashionable figures from amongst The Elmbridge Hundred are also featured, including: Frances Day, Viscountess D'Abernon, Edward Hughes Ball Hughes, Elizabeth I and Barbara Cartland.

The exhibition runs until 8 June 2011; admission is free.


---
Elmbridge Literary Competition Winners
December 2010
For this year's literary competition, budding authors and poets were charged with writing themselves into the life-stories of historic figures from The Elmbridge Hundred. The results were by turns imaginative, witty, outrageous and moving. Read the winning entries.
---
Elmbridge Literary Competition 2010
The topic for this year's Elmbridge literary competition is 'The Elmbridge Hundred':
'The Elmbridge Hundred project gives us a tantalising look at the many people who have, in numerous ways, contributed to the history of Elmbridge. This competition is an invitation to be part of that project. Choose one or more of the hundred personalities and write yourself into their story. Join them as the lived, loved, or journeyed through this Borough... The competition will be judged by a panel of professional authors in November 2010.'
The literary competition is organised by Elmbridge Borough Council and the RC Sherriff Trust.
---
Press coverage of The Elmbridge Hundred, 2010

---
Exhibition view at Elmbridge Museum
19 June 2010
On Saturday afternoon a private view will be held at Elmbridge Museum, giving guests the opportunity to see the new exhibition about The Elmbridge Hundred project. The event is from 2.30 to 4.30 pm, with the Mayor of Elmbridge (Councillor Barry Cheyne) officially opening the exhibition at 3pm. Local school students and teachers who worked on the project are especially welcome.
---
The launch of The Elmbridge Hundred project
1 June 2010
A new exhibition and the biographical website will be launched at Elmbridge Museum on Tuesday 1 June from 6pm to 8pm. The exhibition reveals the story of the project so far, and celebrates the results of our community partnership, which commemorates the historic borough of Elmbridge's astonishing human heritage.
---
Final Selection Panel meet at Brooklands Museum
24 April 2010
On Saturday, a group of professional historians and local notables met at Brooklands Museum to decide on the ultimate 'Elmbridge Hundred'. They were:
Michael Aspel, OBE (TV presenter and Honorary Freeman of Elmbridge Borough)
Heather Hawker (Chair, Surrey History Trust)
Tony Hutchings (Archivist, Brooklands Museum)
Dr Claire Langhamer (Senior Lecturer in History, University of Sussex)
David Taylor (Historian)
After lunch, and a quick spin in one of the Museum's vintage motor cars, the panel got down to their deliberations...

The afternoon inspired impassioned academic debate and some wonderful anecdotes from our panellists. Eventually they managed to agree on an impressive and diverse final hundred, which you can browse.


(All photographs appear courtesy of Brooklands Museum © 2010)